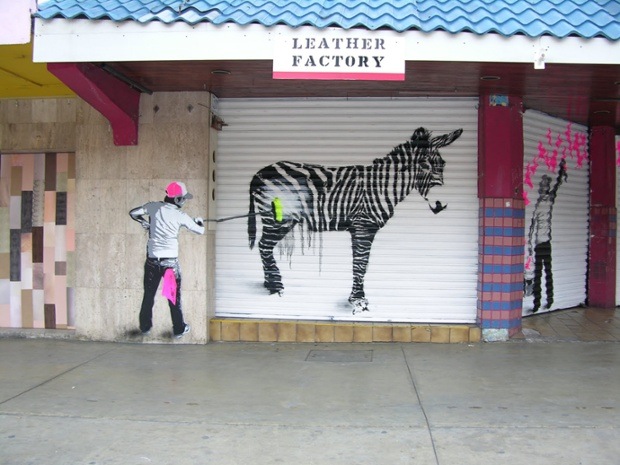 Democracia Real Ya!
Thu 5 February - Sat 28 February
FREE / Mezzanine Gallery 
35 - 47 Bethnal Green Road, London, E1 6LA
Democracia real ya!', meaning 'real democracy now!', is an exciting exhibition of street art by Rosario Martínez Llaguno and Roberto Vega Jiménez, members of the Mexican art collective Lapiztola Stencil, based in Oaxaca. This collective was formed following teachers' strikes in Oaxaca in 2006 which were violently suppressed by the state. Street art became a form of political protest, highlighting the range of issues which Mexicans face, and providing hope and inspiration. The exhibition will celebrate the fight for social justice that the artists are involved with in Oaxaca and Mexico as a whole.
This exhibition is hosted by Global Justice Now (formerly the World Development Movement and relaunching with a new name in January 2015). Global Justice Now has a history of working with organisations around the world that fight for social and economic justice. The organisation believes deeply in the absolute need for global equality, across all spectrums of life, and better lives for those struggling daily against the force of corporate power. Through this exhibition Global Justice Now hopes to show how fundamental cultural expressions of struggle are in making another world possible.
Open House: Thu 5 Feb, 6pm
Drinks and nibbles will be provided. 
Image: