Jaime Rojo & Steven Harrington
A visit to Street Artist Swoon's studio is a full immersion into her passions; meditations on humanity, the process of collaboration, and sculptures you can inhabit.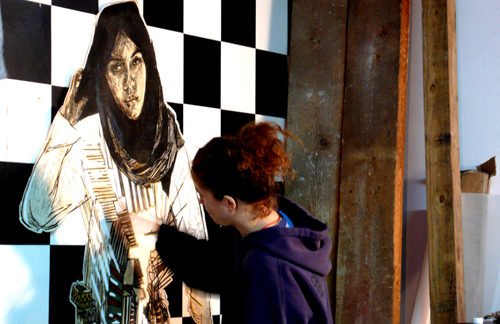 Swoon adding color to the busy streets of "Cairo" (Sunday Afternoon) (photo © Jaime Rojo)
In the rustic warm light of a triple height cavernous space that might have served as a town hall a score of printed artworks on paper lay scattered across the wooden floor. Tiptoeing between the images to cross the formerly grand chamber, the familiar faces of children and adults who you've met on walls across the city look up at you. Together these figures, a de facto retrospective of Swoons' last few years on the street in NYC, are burned into the retina of many a Street Art fan, and yet they lay here on this whitewashed wood-slatted floor without any ceremony at all.