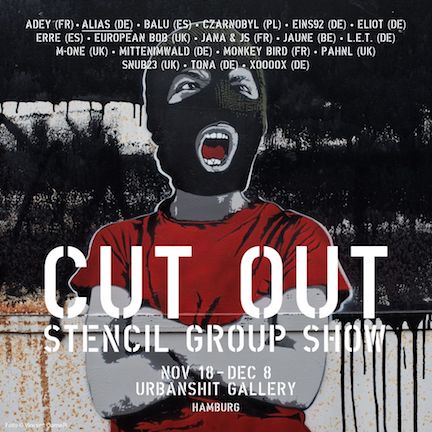 Opening «CUT OUT» Stencil Group Show
Facebook Link
Adey (FR) • Alias (DE) • Balu (ES) • Czarnobyl (PL) • eins92 (DE) • Eliot (DE) • Erre (ES) • European Bob (UK) • Jana & Js (FR) • Jaune (BE) • L.E.T. (DE) • M-one (UK) • Mittenimwald (DE) • Monkey Bird (FR) • Pahnl (UK) • Snub23 (UK) • Tona (DE) • XooooX (DE)
VERNISSAGE – Samstag, 18. November, 19 bis 00:00 Uhr
FINISSAGE – Freitag, 8. Dezember, 19 Uhr bis 23:00 Uhr
Ausstellung: 18. November – 8. Dezember 2017
URBANSHIT GALLERY
Breite Straße 56
22767 Hamburg
Öffnungszeiten
Mittwoch und Donnerstag 15-18 Uhr
Sowie nach Terminvereinbarung
Das Schneiden von Stencils (Schablonen) ist eine der bekanntesten künstlerischen Techniken der Street Art. Ursprünglich als technisches Hilfsmittel zur schnellen und seriellen Verbreitung politischer Botschaften im öffentlichen Raum entwickelt, haben sich Schablonen Graffiti zu einem völlig eigenständigen Kunstgenre entwickelt, welches die Street Art prägt wie kein anderes.
Mit CUT OUT versammeln die beiden Kuratoren Felix Rau (eins92) und Rudolf David Klöckner (urbanshit) 18 der derzeit interessantesten europäischen Stencilkünstler in einer Ausstellung. Mit jeweils genau einem Werk pro Künstler spiegelt die international besetzte Gruppenausstellung nicht nur den Status Quo der Stencilkunst wider, sondern bringt auch die Kunst der Schablonen-Graffiti in konzentrierter Form zurück nach Hamburg.
Cutting out stencils is one of the most known techniques of street art. The original purpose of stencils was to quickly reproduce and spread political messages in public space. By now, they have developed to an individual art genre with heavy influence on street art.
Through the CUT OUT-show, the two curators Felix Rau (eins92) and Rudolf David Klöckner (urbanshit), gather eighteen of the most interesting stencil artists of Europe under one roof. By exhibiting one work per artist, the show not only reflects the status quo of stencil art but also brings back stencil art to Hamburg in a highly concentrated form.