Rare Form of Miniature Stenciled Rock Art Found in Australia
New research suggests the small-scale illustrations may have been made with beeswax
By Alex Fox
SMITHSONIANMAG.COM
MAY 27, 2020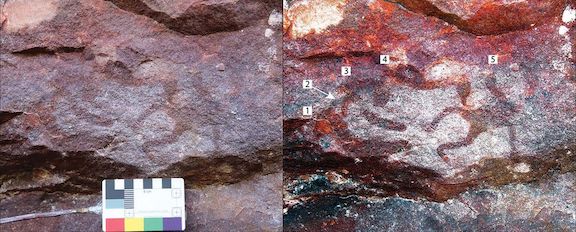 In 2017, researchers surveying the Yilbilinji rock shelter in northern Australia's Limmen National Park discovered rare examples of miniature stenciled rock art. Now, a new study published in the journal Antiquity may unravel the secrets of these mysterious artworks' creation. [Interestingly, in the new study, the researchers did not date the pigment to see when the miniature stencils were made. The only mention of dates is with the use of beeswax, as far back as the 1800s. - Stencil Archive]
Australia's Aboriginal culture is renowned for its diverse rock art, which dates back thousands of years and includes an array of stenciled renderings. Such works were created by holding an object against a rock's surface and spraying it with pigment to render its silhouette in negative space. Stenciled art often features life-size human body parts, animals, plants and objects like boomerangs, according to a statement.
Small-scale stencils posed an obvious logistical hurdle for ancient artists, as the tools had to be purpose-built for the artwork rather than drawn from an existing slate of objects.
"What makes these stencils at Yilbilinji so unique is that they are tiny, some measuring only centimeters across, and they are too small to have been made using body parts or full-sized objects," lead author Liam Brady, an archaeologist at Flinders University, tells Henry Zwartz of the Australian Broadcasting Corporation (ABC).
The trove is one of just three examples of miniature stenciled rock art identified to date. Per the statement, the other surviving specimens are found at Nielson's Creek in Australia and Kisar Island in Indonesia.