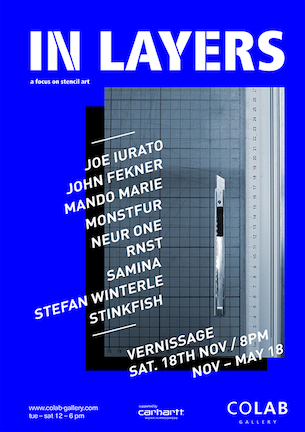 Colab Gallery presents "IN-LAYERS, a focus on stencil art" Group Exhibition
Artists:
JOE IURATO (US) • JOHN FEKNER (US)
MANDO MARIE (NL) • MONSTFUR (PL)
NEUR ONE (FR) • RNST (FR)
SAMINA (PT) • STEFAN WINTERLE (DE) • STINKFISH (CO)
"IN-LAYERS" is opening on Saturday,
Nov 18th at 8 pm and we are looking forward
to seeing you there!
Am 18. November öffnet Colab Gallery Ihre Türen für die Gruppenausstellung "IN-LAYERS,
Fokus auf Schablonen Kunst" und wir möchten Dich hiermit herzlich zur Vernissage ab 20:00 Uhr einladen.

Künstler:
JOE IURATO (US) • JOHN FEKNER (US)
MANDO MARIE (NL) • MONSTFUR (PL)
NEUR ONE (FR) • RNST (FR)
SAMINA (PT) • STEFAN WINTERLE (DE) • STINKFISH (CO)
Facebook-Event
KURATOR Stefan Winterle
Colab Gallery GmbH
Schusterinsel 9
79576 Weil am Rhein
Germany
Stay tuned for more Information on our website and facebook!
Die aktuellen Informationen finden Sie auf unserer Webseite und auf facebook!
See you there!
Wir sehen uns!