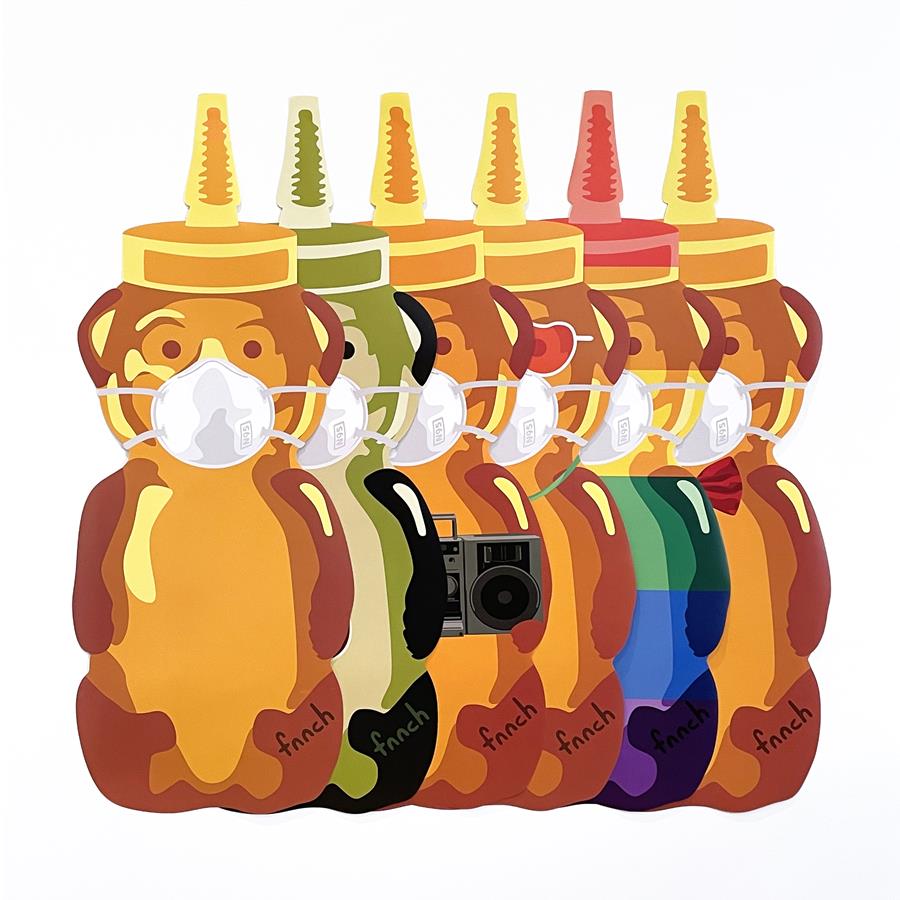 Today I am relaunching the Honey Bear Hunt. The bears are better quality, and I am asking everyone to keep them up for at least 3 months and appear on the map. Hunt Kits are now available on store.fnnch.com, and more will be released every Wednesday.
What Is the Honey Bear Hunt?
The idea is for people to put Mask Bears in their windows so neighbors can walk around and spot them. This is a fun, safe activity for individuals, couples, and families.
I launched it last May, and it exceeded my wildest expectations — we have now shipped over 12,000 Hunt Kits to all 50 states and 5 continents!
As COVID rates have soared, much of the country has locked down again, restricting movement and closing galleries and museums. The Honey Bear Hunt brings art to you.
Better Bears
The original bears were printed on relatively cheap paper with relatively cheap ink. The new ones are made by a professional print shop and are much better quality. They should wrinkle and fade less in the sun.
Expectations
If you buy a Hunt Kit, I am asking you to put it in your window for at least 3 months. It would be swell if you kept it up for the duration of the pandemic, but I want to make a reasonable ask. After 3 months I will reach out with a survey to see if you'd like to keep your bear up longer.
The shipping address for your Hunt Kit will appear on fnnch.com/HoneyBearHunt for those 3 months. Being on the map is part of the Honey Bear Hunt. If you don't want to be on the map, please do not purchase a Hunt Kit. If you would like your bear to appear at a different address, please add that to your Order Notes.
Please note that the Honey Bear is intended for your window. It is not intended to be a collectible. My collectible prints are made with the highest quality inks and papers. These are not. If you want to save your Mask Bear, take it down carefully when the time comes. The new paper makes this easier.
Masks
I started making Mask Bears early in the pandemic before masks had been politicized. I wrote then, "To me, wearing a mask is about caring for others. A mask won't prevent you from getting sick, but if you are sick and don't know it — contagious but not symptomatic — it can help prevent the infection from spreading. We are all in this together, and we need to get out of this together."
I still stand by that sentiment — masks are about caring for others, and we are all in this together — but I now believe that masks do in fact prevent you (and not just others) from getting sick. This study used two mannequins rigged to "breath" aerosols, studied mask performance, and found a 2X protection to yourself and a 4X protection of others (for a properly worn N95). I like this study because it's a controlled experiment — it only involves carefully calibrated equipment. Another study corroborates those numbers using real-world data. The goal is straightforward — contain the spread of airborne droplets exhaled (via breathing, talking, or sneezing) from sick people, whether yourself or others. Wearing a mask (like a seatbelt) isn't that hard, and it not only helps save lives (including your own) but demonstrates your care for others.

Again, to me, Mask Bears are about caring for others. Putting one up in your window enables a fun activity for your neighbors, reflects the shared struggle we are all going through, and encourages people to care for their community.
Thank You
Thank you to everyone who has joined the Honey Bear Hunt so far. Experimenting with new ways to get art to the public is a core part of my practice, but I never expected this project to work so well and get so much attention. I am excited to relaunch it, new and improved.
Thank you as well to Julie Gebhardt for all the amazing photos of bears in-the-wild that I included in this email. Tag your own with #HoneyBearHunt to be featured on my page!

Again, Hunt Kits are available on store.fnnch.com.
I hope this finds you all well in these strange and difficult times.
Best,
fnnch