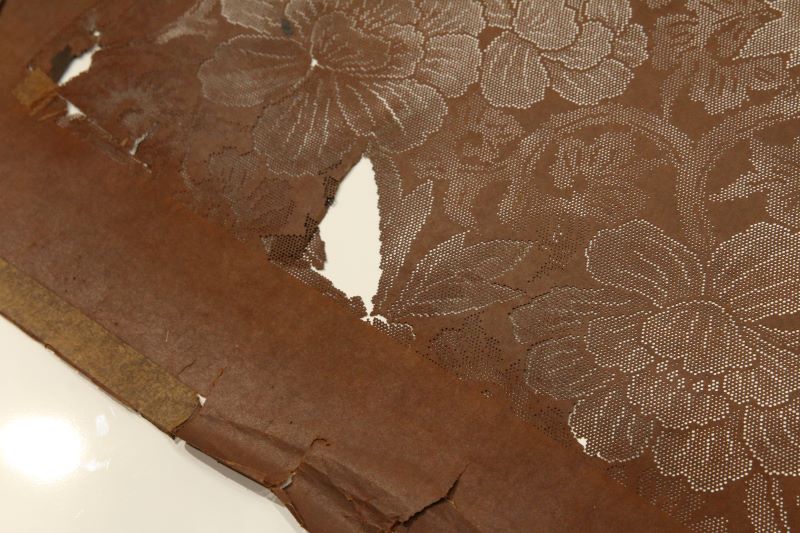 Tokyo shop strives to digitize to preserve traditional Komon stencil dyeing technique
January 16, 2022 (Mainichi Japan)
LINK to article.
TOKYO -- A workshop in Tokyo that creates products using a traditional Japanese stencil dyeing technique called "Edo Komon" has launched a crowdfunding campaign to digitize and preserve the extremely fine patterns which are on the brink of extinction.
The dyeing studio Tomita Sen-Kogei Co. (Tomita Dyeing & Crafts Co.), located at the foot of a bridge over the Kanda River -- a site famous for cherry blossoms -- was founded in 1882. The shop sells kimono, as well as neckties, scarves, umbrellas, wallets and other items employing the dyeing technique of "Edo Komon" -- a method that developed during the Edo period (1603-1867) and is known for its extremely small patterns which cannot be seen from afar.
The paper stencils used to attach the intricate patterns onto fabric are primarily works by craftsmen from Mie Prefecture who carve the designs by hand. The workshop, and industry as a whole, is facing a crisis in terms of the protection of the craft and skills amid difficulties to preserve the stencils as well as a shortage of successors.
President Atsushi Tomita, 73, held a paper stencil whose pattern was torn, and quietly said, "This can't be used for dyeing. But if we dispose of it, the pattern itself will also be lost. The patterns are cultural properties filled with our predecessors' artistic sense and skills. I want to take every possible means to save it."
A turning point for Tomita came in autumn 2012 as the Tokyo Metropolitan Art Museum initiated the project "Tokyo Crafts & Design," which showcased works developed through a collaboration of traditional craftsmen and designers. Tomita himself joined the project, and a pocket-square using his Komon patterns was selected as one of 10 certified products among the 265 submitted works.
Tomita said that this opened his eyes to the fact that dyeing techniques for kimono can be used to create other objects. He realized that "as long as the patterns exist, it's possible to pave the way for various options."
While Tomita owns tens of thousands of paper stencils, including very old ones that are estimated to have been created between 1789 and 1801, they eventually get worn over time. When he sought advice from the Tokyo Metropolitan Industrial Technology Research Institute, consultants suggested that he preserve the stencil patterns by scanning and converting them into digital data, which can be reproduced with laser-cutting technology. From the fall of 2019, Tomita has been engaging in efforts to digitize 200 paper stencils, alongside his regular work. However, he has come up against financial difficulties, and this led him to launch a crowdfunding campaign in November 2021.
Meanwhile, the industry has also been struggling with passing down the traditional craft to the present generation. Most of the paper stencils used for Komon patterns are Ise Katagami pattern paper, which are created in the Mie Prefecture city of Suzuka and are said to have originated during the Muromachi period (1336-1573). After Mino washi paper is affixed to one another with "kakishibu" persimmon tannin dye and dried, craftsmen carve the Komon patterns on the paper by hand. Particularly detailed patterns are as thin as a single strand of hair.
During the Edo period, the craft of Ise Katagami flourished in the area, with over 300 people involved in the craft prior to the 1973 oil crisis. The Ise Katagami skills preservation society, consisting of craftspeople and others, has been nationally designated as a holder of an Important Intangible Cultural Property, but the local community shows no traces of its past prosperity.
Toshikazu Sato, 74, a former deputy director of Ise Katagami Cooperative Association, which is a co-op of retailers, also lamented the situation and said, "There are currently only around 30 people involved in the craft." He cited Japan's shift away from traditional clothing, as well as the development of cheap manufacturing skills as some of the factors behind this small number.
"Although we used to get orders for recarving stencil patterns, silk screens are mainstream now, and there has been a decrease in jobs for craftspeople," Sato said.
A majority of Ise Katagami craftspeople are apparently in their 70s or older. Therefore, those in Mie Prefecture concerned about the craft place their hopes in the crowdfunding initiative.
"If a system is created so that both craftspeople that carve the stencils and retailers that use the craft digitize and preserve the designs, leading to their sales and resultant profits, this may even contribute to fostering successors of the craft," said Tomita.
Those wishing to support the crowdfunding campaign can access the page at https://first-flight.sony.com/pj/sarakichi or through the official website of Tomita Sen-Kogei Co. at https://tomita-senkougi.com/