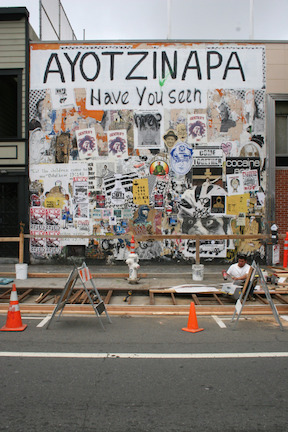 Bruce Tomb has been a long-time supporter of street art, mostly via postering, along the ever-changing Valencia Street corridor. On the wall of a former police station, the (de)Appropriation Project has been a vibrant source of stencils, posters, and political and personal expression. I have heavily documented it over the years, putting some photos in Stencil Nation and labelling my photos with "dap" when I put them here on the Stencil Archive. Tomb's wall is a special wall: legal, unedited (unless you don't like the commercials ads that sometimes get put up on there), encouraged, and community-supported. As waves of change hit the Mission District, knowing that there is a solid spot to paste up on and enjoy is a beautiful thing.
Now Tomb is deepening the location's committement to pubilc expression with a new and interactive parklet. Here is some info about the new parklet from Tomb's blog:
This parklet is distinct in that it is also a public art work sited in front of the (de)Appropriation Project. The parklet will take the form of a sidewalk "bulb-out" and two speakers' podiums. The laser cut step plate for the podiums will also act as signage for the project as required by the Planning Department and the expanded steel mesh will be welded into the form of the podiums. This mesh is the same as what was used to fortify the former police Mission Police Station in 1970, protecting it from the community it served. That mesh has been repurposed and now is the front gate to our building. The custom formed curb will be stained to match the repurposed steel decking from another parklet in the neighborhood that was removed last year.
Image: