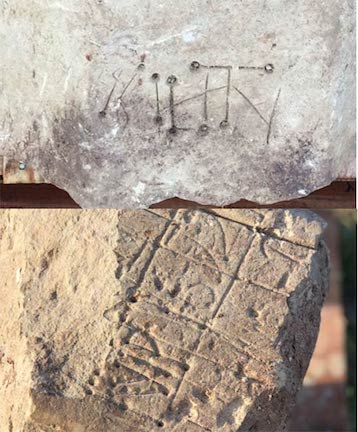 Medieval Graffiti to Repel Witches and Evil Spirits Found In Britain
21 OCTOBER, 2020 - 17:52 ED WHELAN
LINK

In Britain, a mysterious discovery has been made in the ruins of a church in an abandoned medieval village. On some stones, archaeologists have found graffiti and some enigmatic marking. It is believed that the markings were made to ward off evil spirits or witches. This discovery is a timely one as we approach Halloween.
Currently, there is a major infrastructure project being carried out in Stoke Mandeville, Buckinghamshire, England. It involves the construction of rail lines and a highway. This project will totally destroy a long-abandoned medieval village. 'The deserted village site stands among fields half a mile south of today's Stoke Mandeville', according to the Buckingham Archaeological Society . Archaeologists from Fusion JV are currently working to excavate as much of the village as they can.
Deserted medieval village
The focus of their work is on the ruins of the 12 th-century church of St Mary's now little more than rubble. This was demolished many centuries ago, however, archaeologists were stunned to find beneath a heap of stones, the walls and floors of the place of worship. Andrew Harris, a manager with Fusion JV stated that 'The levels of preservation of some of the features of the church are surprising given its age' reports the HS2 Media Centre .
On the stones, of the demolished church they have found some graffiti. They have also discovered some curious markings. According to The Bucks Herald , 'Two stones with a central drilled hole from which a series of lines radiate in a circle have been uncovered at the site of St Mary's'. These engravings were of great interest to the team of archaeologists.
Witches marks or medieval graffiti?
One possibility was that the markings are medieval sundials that were used to tell the time and indicate the time for mass and prayers to the faithful. However, the engravings were found on a stone that was close to the ground. This would seem to indicate that they were not sundials.